Upper Austria's capital Linz sprawls along the banks of the Danube and is situated on the ancient Salt Road that used to link Salzkammergut to Bohemia.
Thus Linz is an industrial and manufacturing centre with a long history.
Linz, Austria's third-largest city is picturesquely embedded in the Danube Valley and encircled by gently rolling foothills. Linz is a marvellous mix of classic centuries-old European architecture within a modern-day lifestyle. Linz offers a perfect blend of big town shopping opportunities, cultural activities, and fine wining & dining.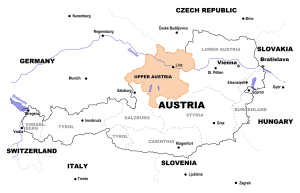 The cultural wealth and many attractions of the picturesque town centre bear witness to the past glory and present beauty of Linz. Today it's one of the leading cultural centres of Austria, with attractive highlights, like the Linz Cultural Summer, the annual Linz Street Artists' Festival, the Bruckner Festival, the visualized "Cloud of Sound" Festival and the Ars Electronica Festival.
For Details see:
Contact:
Linz City Tourist Board
Hauptplatz (Main Square)
Phone
+43 (0) 732 7070-2009
Fax
+43 (0) 732 7070-54 2009
Email tourist.info@linz.at